Back to News Page

Faith in Wharf paying off
Posted on: 03rd October 2017
TEN years after the building blocks were first put in place, the Droylsden Marina housing scheme is making excellent progress.
Only 11 housing plots remain available, including the final phase (three) where the properties have yet to be put on the market. Construction of 55 two and three-bedroom flats is well under way and they will soon be released for sale.
The Marina development, known as The Wharf, is an integral part of a £100 million regeneration of Droylsden. As well as the many homes that have been built, the lock and grade-2 listed toll house have been refurbished and there are moorings for 30 boats.
Near-by Guardsman Tony Downes House, headquarters of the Greater Manchester Pension Fund, opened almost two years ago.
Cllr Kieran Quinn, a Droylsden councillor as well as executive leader of Tameside Council, said: "I'm delighted that the development is now progressing so well.
"The scheme was launched just as the effects of the banking crisis began to be felt, and it suffered accordingly. However, Tameside Council and Watkin Jones kept faith with the project and we now have some fine properties in a fine location. I'm sure the new owners will love them."
A spokesman for Watkin Jones added: "The Wharf offers you luxury living within easy reach of Manchester city centre and the wider North West. It's a great place to live for families and commuters alike."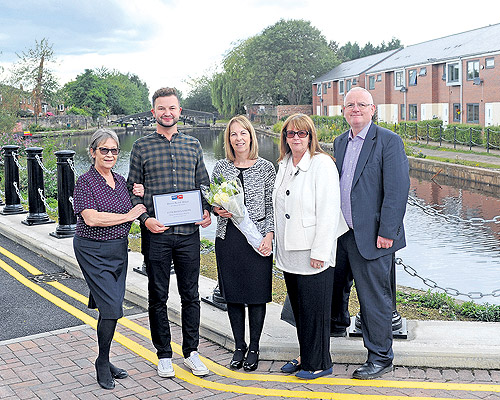 Article and photo courtesy of The Tameside Reporter.